Sail & Bike 1 | Tulip Tour - Leafde fan Fryslân
Cruise overview
Sailingarea
Noord-Holland | Nord-Holland | North-Holland
Embarkation
6-4-2019
13:00
Amsterdam
Debarkation
13-4-2019
09:30
Amsterdam
Costs
979,00
Capacity
30
Currently 6 available!
availability subject to change
Complete reservation
Enjoy Holland in the springtime in an unforgettable way, exploring enchanting Dutch landscapes by wheels and water during our Tulip Sail & Bike tour.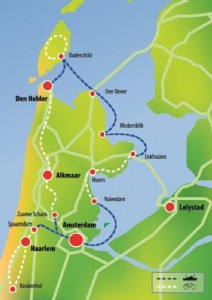 During this active cruise aboard the Leafde fan Fryslân - a comfortable three-masted barquentine - you'll visit the Tulip areas as well as the Wadden Sea Island Texel. You will also visit the famous Keukenhof Gardens. During the days, the program features an individual bike tour, a stretch of sailing to the next port or both. On board, there is plenty opportunity to relax as well - there's a very comforatble bar /lounge, a large diningroom, seating and even a jacuzzi on deck and not to mention your very comfortable cabin.

The exact route depends on the weather, but the following itinerary is aimed for:

Day 1: Amsterdam - Spaarndam | by bike: Spaarndam - Haarlem
You are welcome to check in on the Leafde fan Fryslân between 1 p.m. and 2 p.m. At 2.30 p.m. the ship leaves the harbor. While the ship sails to Haarlem, your tour leader will stoke your anticipation by telling you about the tour, the cycling and safety procedures. From Spaarndam, you will have the option to take a little test ride. After enjoying a delicious dinner on board, the tour leader will take you on a guided town walk through the beautiful city center of Haarlem.
Cycletour: 6 - 14 km

Day 2: Haarlem - Keukenhof - Haarlem
Today's trip leads you through the oldest tulip fields of Holland, and includes a visit to the Keukenhof Gardens. In the afternoon, you cycle back to Haarlem to spend a restful night here in your floating hotel.
Cycletour: 50 km

Day 3: Haarlem - Zaanse Schans | by bike: Zaanse Schans - Alkmaar
In the morning, the ship will take you to the Zaanse Schans, a unique hamlet where people live and work alongside original houses and windmills built next to the river Zaan. This tiny village is dominated by its operating windmills — the oldest of which was built in 1673 — and these were used for grinding mustard seeds, spices, and paint components; extracting plant oil; and for sawing wood into planks. After this visit, your cycling tour continues to Limmen and Egmond-Binnen. Your cycling tour continues to Egmond at the North Sea, once more passing through the tulip fields. The Leafde fan Fryslân will be waiting for you near the historical city center of Alkmaar. This town is well known as a Dutch cheese city.
Cycletour: approx. 40 km

Day 4: by bike: Alkmaar - Den Helder | Den Helder - Texel (Oudeschild)
Today you can take a bike tour north of Alkmaar where you will find the most beautiful tulip fields on your way to the North Sea. Close by — and certainly worth a visit — is the artist's village of Bergen. Then you will bike on through the North-Holland Dune reserve to Den Helder. Just before dinner, the Leafde will sail to the island of Texel, the largest of the Dutch Wadden Isles.
Cycletour: 33 - 50 km

Day 5: Texel | Texel - Medemblik
Today you can choose to cycle a shorter route or to take a longer tour around the island. You will cycle through delightful natural parks, and even on Texel you will bike through fields of blooming flowers! Our suggestion is to cycle the beautiful Thijsse-route (approx. 40 km), the signposts of which lead you through picturesque villages and landscapes, and even to the Ecomare seal sanctuary. At the end of your cycling tour, you can enjoy a locally-brewed, well-deserved beer during a visit to the small brewery near Oudeschild. During dinner, the Leafde fan Fryslân will return to the mainland and sail to Medemblik.
Cycletour: 15 - 65 km

Day 6: Medemblik - Enkhuizen | by bike: Enkhuizen - Hoorn
In the morning, the Leafde fan Fryslân will set sail to Enkhuizen. Around lunchtime, the Leafde fan Fryslân will make a stop in Enkhuizen, an old city with many centuries of maritime tradition. You can spend some time exploring here before you start biking onwards in the afternoon. Your afternoon ride goes from Enkhuizen to Hoorn, passing through West-Friesland,
Cyclingtour: approx. 28 km

Day 7; by bike: Hoorn - Volendam | Volendam - Amsterdam
On this last cycling day, a tasty breakfast will be followed by a bike tour to Volendam, a small and picturesque fishing harbor on the shores of Lake IJsselmeer. Along the way, you will pass Edam, which is known for its famous Edam cheese, covered in red or yellow wax. In Volendam, the Leafde fan Fryslân will be waiting for you in the afternoon, giving you one last sailing trip to enjoy on your way back to Amsterdam.

Day 8: Amsterdam
End of your tour: after breakfast, you can disembark until 9.30 a.m.

All distances are "approximate distances" of recommended bike tours.
The tour details are barring changes, a.o. as a result of nautical, technical or meteorological reasons.

While a little bit of adventure is part of every Sail & Bike tour, departure and arrival days as well as the location – Amsterdam – are a 100% fixed. As for the rest, the planned daily sailing routes partially depend on the strength and direction of the winds. The skipper decides day by day on the best route and discusses the options with his guests.
Prices per person
| | |
| --- | --- |
| Double cabin for single use * | EUR 1.229,00 |
| Double cabin | EUR 979,00 |
| Three bed cabin * | EUR 879,00 |
* Private cabins and three-bed cabins have a limilted availability. Please contact us if you wish to book a one of these cabins.
Included:
Accommodation in your booked cabin
Bedding and towels
All meals (7 x breakfast, 6 x lunchbag for during the cycling, 7 x three-course diner)
Welcome drink
Daily briefings
Fully guided cycling tours
Maps and notes for cycling tours (1 set per cabin)
Coffee and tea daily until 16:00 complimentary
Not included:
Drinks
Coffee and tea after 16:00
Transfers to and from Amsterdam
Bike rental (see below)
Parking fees
Personal expenses, entry fees, excursions, ferry costs
Travel insurances
Bikes
We offer you the opportunity the rent a bike for the entire trip. The bike will be waiting for you on board when you check in. These bikes are unisex-touringbikes with 7 gears. Other bikes (e.g. e-bikes or childrens bikes) and kiddyseats are only available on request prior to your booking!

Prices:
Standard touringbikes with 7 gears: € 75,00 per week
E-bike with 3 support-levels and 7 gears (range: 60 - 65 km): € 175,00 per week (limited availability)

You're free to bring your own bike with no additional costs. Allthough we will handle and store your bike carefully, neither the crew nor the touroperator or its resellers can take responsability for damage or loss of your belongings - including your bike.

Bicycle helmets are not on board, but can be rented at € 10.00 per person. You must recerve your helmet by booking.
Complete reservation