Sail & Bike 1a - Leafde fan Fryslân
Cruise overview
Sailingarea
IJsselmeer
Embarkation
2-6-2018
18:00
Amsterdam
Debarkation
9-6-2018
09:30
Amsterdam
Costs
949,00
Capacity
24
Currently 2 available!
availability subject to change
Complete reservation
Discover amazing Dutch highlights by boat and by bike. You'll discover a new historic port every day and will enjoy the surroundig landscape by bike. It doesn't get any more Dutch!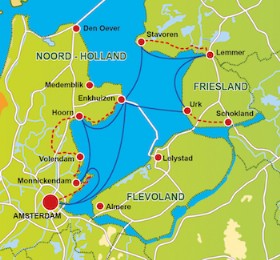 No more choosing between sailing and cycling - we offer both! You'll feel right at home on board of the Leafde fan Fryslân. She offers a stylish salon with a bar and 10 cabins with each an en-suite bathroom. All cabins offer two seperate beds that can be combined to one double bed, an optional third and some even an optional fourth bed.

The trip will start and end in Amsterdam, near the Central Station. The exact route depends on the weather, but the following is aimed for:

Day 1 - Amsterdam
Boarding between 15:00 and 18:00 near Central Station. You have the opportunity to visit Amsterdam during the afternoon and evening.

Day 2 - Monnickendam
After breakfast you'll get on your bike to ride trough a landscape that you'll find in many postcards: the Waterland nature reserve and little towns with small canals and houses painted typically green. You can take a little detour to visit the Island Marken (don't worry, there's a bridge) and you'll find the ship waiting for you in Monnickendam. A total of 35 - 50 km of cycling.

Day 3 - Hoorn
Today, you'll cycle via the world-famous towns of Volendam, Edam and De Rijp to Hoorn. You'll have plenty of time to spend in those pittoresque, historical harbours. Don't forget to save some time to visit Hoorn and gasp at the beautiful old city-centre dating back to the Dutch golden age and the East-Indies-Company (VOC). A total of 37 - 52 km of cycling.

Day 4 - Urk
The first stretch wil be by bike: a ride on the dike from Hoorn to Enkhuizen. From Enkhuizen, we'll set sail to Urk where you will have the opportunity to walk around the nice former island or visit the beach. A total of 28 km of cycling.

Day 5 - Lemmer
After Breakfast, you'll ride along the dike to Schokland: a former Island, but completely surrounded by land after the land you rode on was created. Take time to walk around and mabye visit the small museum of this UNESCO World Heritage site, before cycling back to Urk to set sail for Lemmer. A total of 34 km of cycling.

Day 6 - Enkhuizen
Cycle from Lemmer to Stavoren, crossing the wooded Gaasterland-region and the Frisian Lakes region. Don't forget to visit Sloten: not only Netherland's smallest official city, but mainly a town with a well-preserved historical atmosphere - the old fortifications are partly still intact, there's a beautifull windmill on a hill, the beautifully maintained houses by small, cobbled streets and the central canal bring you back in time by a few centuries, you'll even find some old canons! In the afternoon, we'll proceed across the IJsselmeer to Enkhuizen under sail. A total of 48 km of cycling.

Day 7 - Amsterdam
A full day of sailing. Allthough we'll try not to arrive in Amsterdam to late, so you can visit some highlights you missed out on the first day. Note that some of the musea are open for visitors in the evening as well (Anne Frank House, Van Gogh Museum, Foam, etc.)

Day 8 - All good things come to an end...
After another good breakfast, you'll check out between 8:00 and 9:30. Don't forget to come back someday!

The daily programm depends on the wind- and weatherconditions. The captain will consult the guests and determines the planning. There's a little adventure involved! The daily cycling distances are estimates - you're free to adjust the route to your own preferences. If you don't feel like cycling you can stay on board and sail with the crew to the next stop (after all, it's your holiday!).
Prices per person
| Single bed cabin | EUR 1.199,00 |
| --- | --- |
| Twin bed cabin for single use | EUR 1.419,00 |
| Twin bed cabin | EUR 949,00 |
| Triple bed cabin * | EUR 849,00 |
* 3-bed cabins are only available on request. please contact us if you wish to book one these options.

Included
Accommodation in your booked cabin
All meals (7 x breakfast, 6 x lunch or lunchbag for during the cycling, 7 x three-course diner)
Bedding and towels
Welcome drink
Tour leading and daily briefing by the captain and crew
Detailed maps and descriptions of the cycling routes
Complimentary coffee and tea daily till 16:00
Not included
Drinks
Transfers to and from Amsterdam
Reservation fee €15,00 per booking
Bike rental (see below)
Parking fees
Personal expenses, entry fees, excursions, ferry costs
Travel insurances
Bikes
We offer you the opportunity the rent a bike for the entire trip. The bike will be waiting for you on board when you check in. These bikes are unisex-touringbikes with 7 gears. Other bikes (e.g. e-bikes or childrens bikes) and kiddyseats are only available on request prior to your booking!

Prices:
Standard touringbikes with 7 gears: €70,00 per week
E-bike with 3 support-levels and 7 gears (range: 60 - 65 km): €165,00 per week (limited availability)

You're free to bring your own bike with no additional costs. Allthough we will handle and store your bike carefully, neither the crew nor the touroperator or its resellers can take responsability for damage or loss of your belongings - including your bike.

Please note that we don't supply cycling helmets
Complete reservation